Anchorage Frame of Tower Crane with High Quality


anchorage frame
Brand
Fit
Potian
1.6M mast 180MM*18MM angle steel
2.0M mast 200MM*20MM angle steel
liebherr
Liebherr 120HC
Liebherr 132HC
Liebherr 154HC
Liebherr 256HC
Liebherr 290HC
Beyond its free travelling or free standing height,the crane must be connected either to the ground by means of guy ropes or to the building using rigid anchorages.
Remove the standard ladder from the mast section which will be fitted with the anchorage frame.
FAQ
1.the principle of the telescoping
The telescoping sequence comprises a series of operations which are repeated seveval times.
Lifting the crane part to be telescoped by extracting the ram which rests on the telescoping yoke. Resting the lifted crane part on the lugs of the mast by means of the locking pawls of the telescoping cages.
Unpin in and raise the telescoping yoke by retracting the ram.
Connect the yoke on the next pair of the lugs above.
Repeat this cycle 3 times so as to have the space required for introducing the mast section into the telescopic cage.
2.how many years have you invovled in this field?
We have been working in this field more than 20 years.
3.What is the warranty term of your product?
the warranty term of our product is 12month
4.What is the shipping way?
It depands on yours.by sea or air
5.Can you accept OEM or ODM?
Of course.Logo is also acceptable.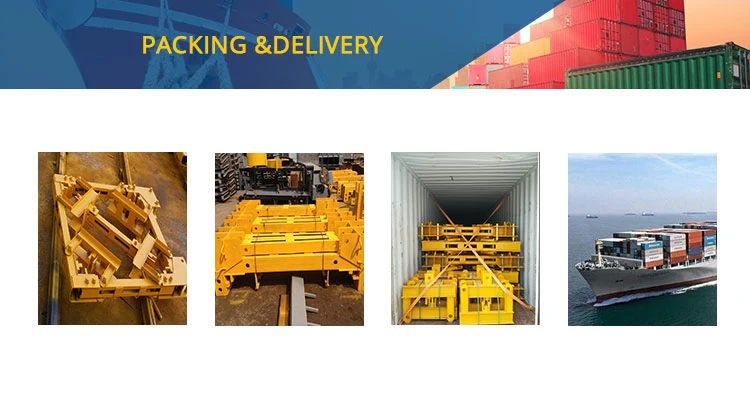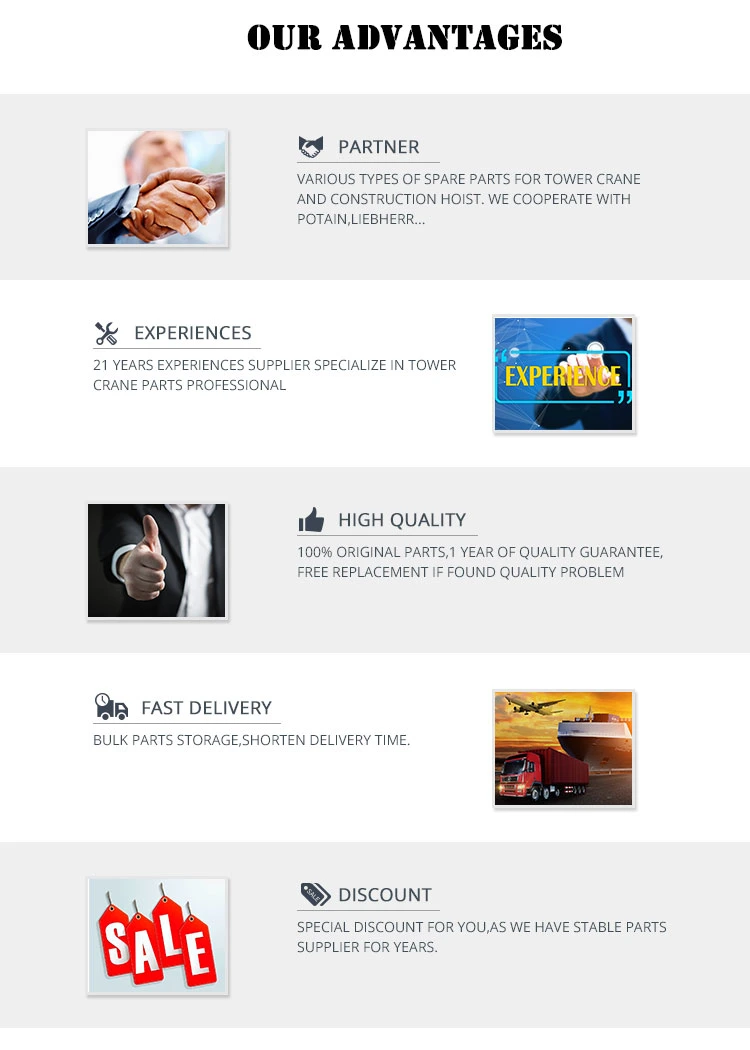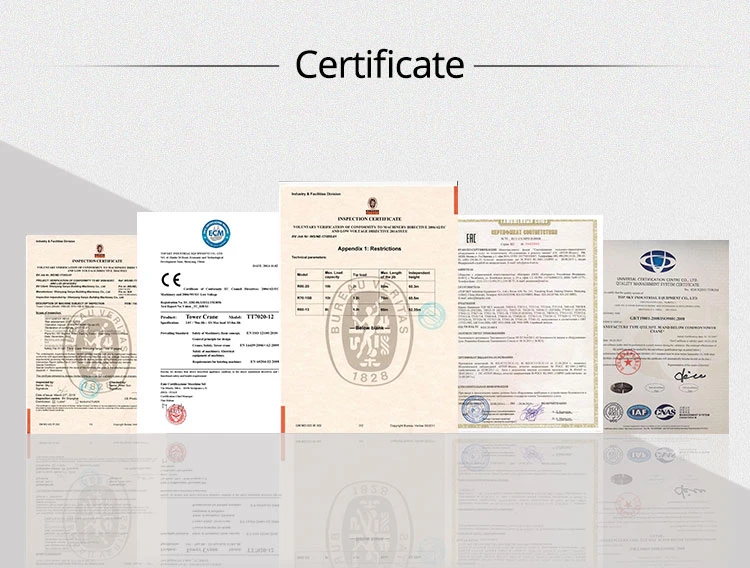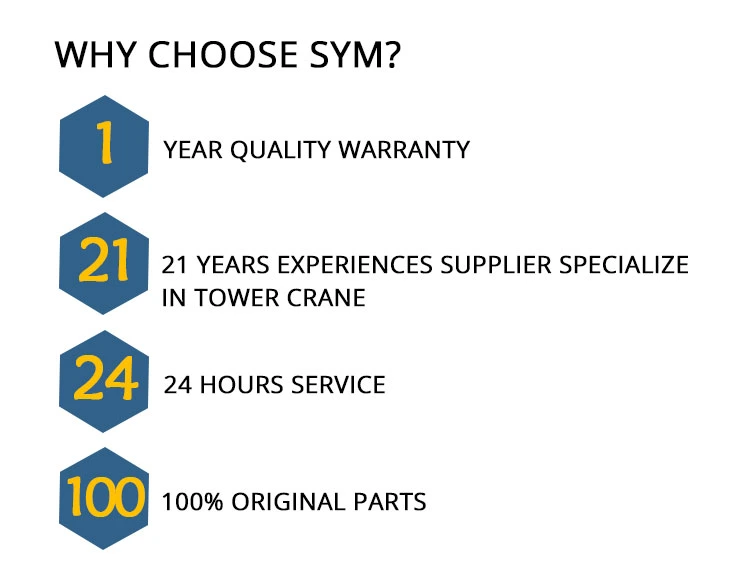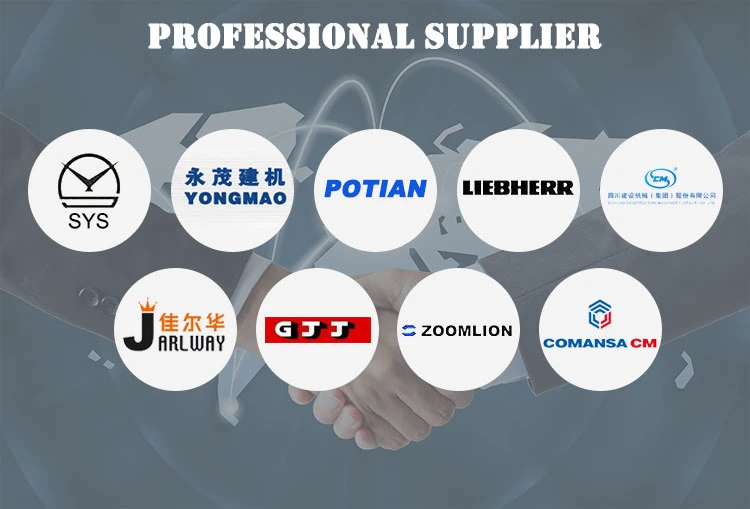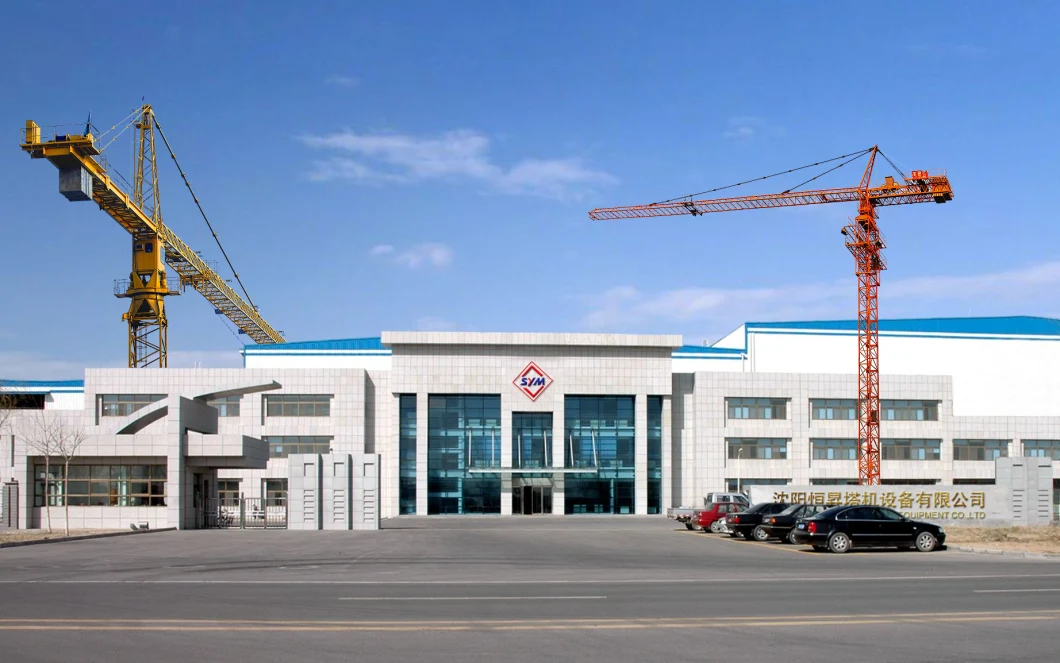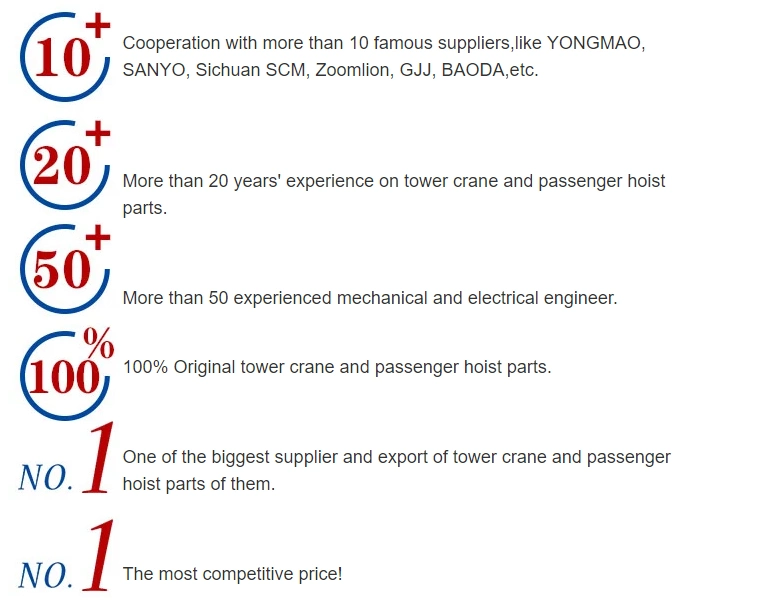 SYM HOIST & TOWER CRANE QUIPMENT CO.,LTD located in Shenyang China is one of the biggest supplier and export of tower crane, luffing crane , topless crane , passenger hoist along with the spare parts for them. With 20 years' experience on tower crane rent , installation , repair and reconstruction, the company has more than 50 experienced mechanical and electrical engineer responsible for the installation guide, failure diagnosis, maintainance and reconstruction for the tower craneattheconstructionsite.
Having a long-term and good cooperative relationship with China's most famous manufacturer of tower crane and passenger hoist like YONGMAO, SANYO, Sichuan SCM, Zoomlion, GJJ, BAODA,etc. The company can offer you the best quality original tower crane and passenger hoist with most competitive price.
Also, we can provide customers with the best professional services, help customers make the right judgment, also the prompt shipment because of the largest number and most complete tower crane and passenger hoist spare parts inventory.
Our trading partners go all over the world, mainly in South-East Asia (Singapore, Hong Kong, Malaysia, Indonesia, the Philippines, Thailand, South Korea, Vietnam ), Middle East (The United Arab Emirates, Saudi Arabia, Qatar, Bahrain, Kuwait, Iran ), India, Russia, Ukraine, Brazil, etc.